Portable, In-Ground, Surface Mount
Types of Mounting Options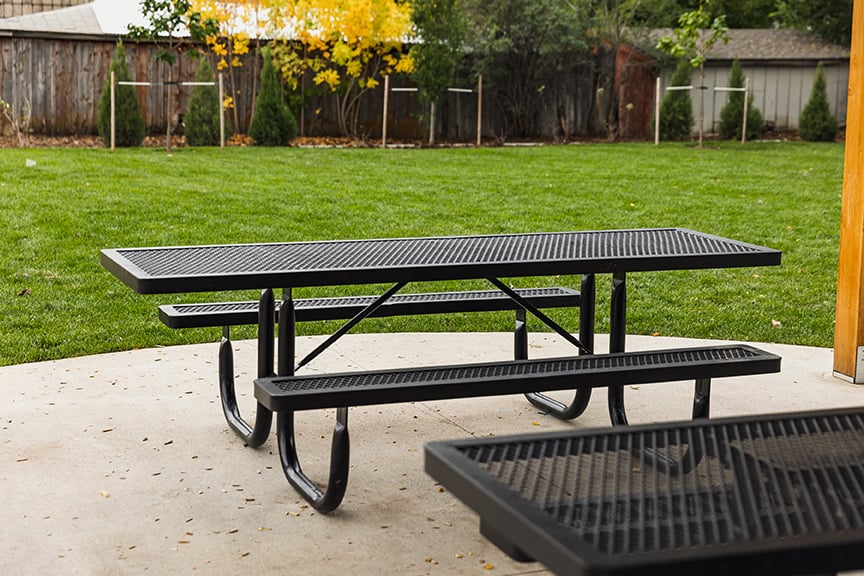 Portable
The portable mounting option provides you with the most flexibility. You can position your portable outdoor furniture on any surface and it is easily movable. If you're certain your site furnishings will need to be moved often, this portable option is best for you.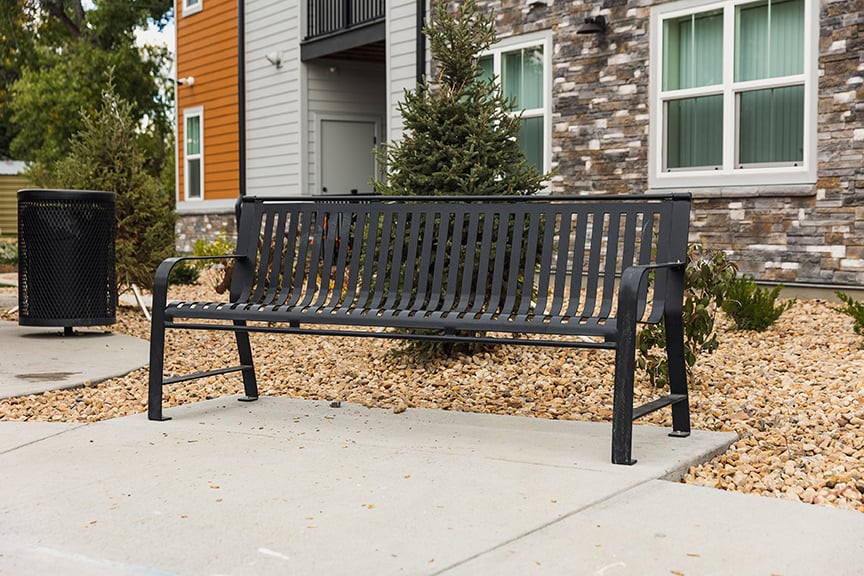 Surface Mount
Surface mount furniture is mounted to a concrete or asphalt pad using anchor bolts. This is a good option for areas where the ground is too hard or rocky to dig into, or where there are existing concrete or asphalt pads. The surface mount option provides a happy balance between stability and security and is a great choice for items such as commercial park benches or commercial bike racks. This option includes hardware for mounting and pre-drilled holes that make it easy to mount to the ground surface.
In-Ground Mount
In-ground mount furniture is embedded into the ground using a concrete footing, meaning the frame is buried in the ground with dirt and pre-poured concrete. This is a more secure option that can withstand heavier use and strong winds but requires digging and more installation effort. In-ground mount is the most permanent mounting option as in-ground site amenities are not meant to be moved once installed. This option works well with items such as park benches and tables.
Advantages and Disadvantages of Mounting Options
All mounting options have their advantages and disadvantages depending on the specific application. Portable furniture and surface mount furniture is typically easier to install, can be moved or repositioned as needed, and can be more cost-effective (because you aren't paying for heavy installation work). However, it may not be as secure as in-ground mount furniture and can be more susceptible to vandalism or theft.
In-ground mount furniture is more secure and durable and can withstand heavier use and weather conditions. However, it is typically more expensive (because of added installation) and can be more difficult to install, as it requires excavation and concrete work. Additionally, it is less flexible and may not be easily moved or repositioned.
It's important to note that in most cases, the actual site furniture will cost the same no matter what mounting option you choose. Ultimately, the choice between surface mount and in-ground mount furniture will depend on a number of factors, including the intended use of the furniture, the specific site conditions, and your budget and installation timeline.
Have questions?
Find your local sales representative. They'll be happy to assist you with any questions.