Why Our Equipment is Better
Our dog park play sets are made with decks and posts made from recycled post-consumer plastic products such as milk jugs. This reliable lumber is vandal-resistant, won't deteriorate in the sun, and comes with a 15-year minimum warranty.
Cleans easily and is durable
Non-toxic and environmentally friendly
Offers the look and feel of wood without the unwanted maintenance
Features UV-stabilizing properties to eliminate fading
Great for coastal environments
Certified green by GreenCircle
Meets the criteria for USGBC LEED requirements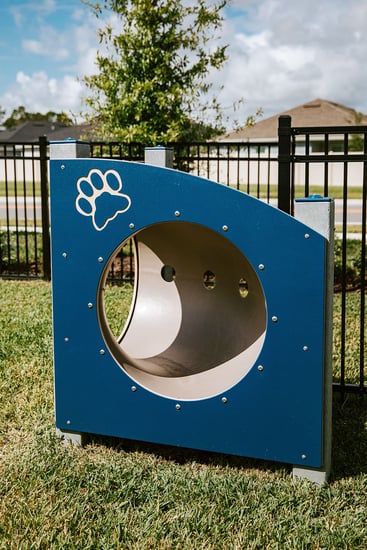 Shop Our Dog Park Equipment
Make shopping for your next dog park easier by having access to all the dog park equipment you need from one place.
All the Dog Park Equipment You Need in One Place
By catering to dogs of all abilities and confidence levels, our dog park playground equipment can work in a wide range of settings — from a local park or recreational center to your subdivision. Each dog play set encourages physical activity and strength building to help those canine companions fully develop. We don't stop there, though. We offer all the items you'll need to create your dog park.


Dog Park Equipment to Include in Your Dog Park from Superior:
Agility equipment: These structures are designed to provide dogs with a physical challenge, such as tunnels, weave poles, jumps, and A-frames. We offer our dog play products as individual components or curated packages (at a discount!).
Dog waste stations: Our pet waste stations include a starter roll of waste bags and a disposal bin for owners to clean up after their dogs.
Water fountains: We offer both a pet drinking fountain and a regular/pet fountain combination. These water sources are designed to provide dogs and their owners with fresh drinking water.
Benches and picnic tables: Create a seating area where owners can rest and socialize with other owners while their dogs play. What's more, we offer themed benches and trash receptacles with a dog bone or dog paw motif.
Shade structures: Our shade structures are designed to provide shade and protection from the sun for both dogs and owners. They are available in variety of designs.
Dog showers: Our pet wash station allows owners to rinse off their dogs after they've been playing in the dirt or water.
Request a Quote
Ready to get started? Request a quote for your upcoming dog park project today.